CHRIS LARSON 8 IN. X 12 IN. PORTRAIT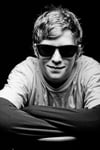 Chris Larson was one of the most prolific street snowboarder to come out of Anchorage, Alaska. In the spring of 2020 we lost Larson to suicide. His legacy will live on through his video parts and the impact that he made on all of his friends and family. September is suicide prevention awareness month, and a portion of the proceeds from the sale of this print will be donated to the American Foundation for Suicide Prevention. RIP Larson, you are loved and missed by so many.
Printed locally on Premium Lustre Paper.